Looking forward to the Notting Hill Carnival this Bank Holiday weekend? To start the celebration, try this tropical Papaya Pie recipe. Get ready to impress your friends and family with this fruity dessert!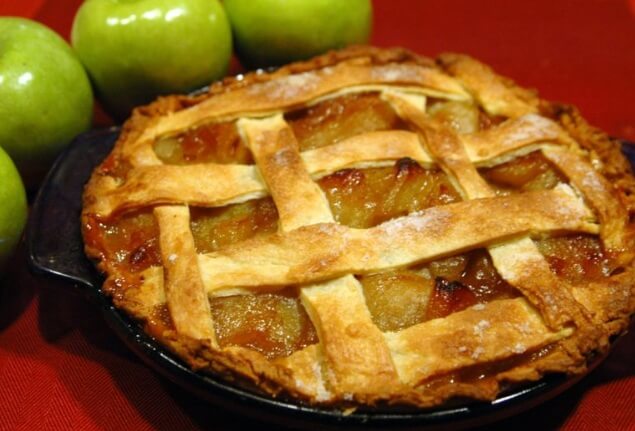 Ingredients
Shortbread Pie Crust
105g unsalted butter, cut into pieces at room temperature

60g sugar

1 large egg yolk

300g all-purpose flour
Papaya Pie Filling
1 freshly chopped seeded papaya

1 tablespoon lime juice

130g sugar

65ml pineapple juice

65ml orange juice

40g cornstarch

40ml water

1 teaspoon lime zest

1 teaspoon orange zest

1 tablespoon butter

65g lightly toasted sweetened coconut flakes

6 lime slices
Sweetened Rum Whipped Cream
190g double cream

580g confectioner's sugar

580ml coconut-flavored rum
Method: Shortbread Pie Crust
In a bowl, combine the butter with the sugar and blend to make a paste. Add the yolk and blend thoroughly. Add the flour and using your fingers, combine to make a crumbly dough.
Pat the dough firmly into a 9-inch pie pan and place in the refrigerator for at least 2 hours.
Remove from the refrigerator and prick the bottom of the crust with a fork.
Place a sheet of parchment in the pie tin and fill with pie weights (dried beans or rice). Bake the crust in a preheated 400 degree oven for 10 minutes.
Remove the pie weights and parchemnt. Bake for 5 minutes or until light golden brown.
Method: Papaya Pie Filling
In a bowl, combine the papaya and lime juice. In a small saucepan, combine the sugar, pineapple juice and orange juice and bring to a boil. Reduce the heat and simmer, stirring until the sugar dissolves.
Add the marinated papaya and simmer for 7 minutes. With a slotted spoon, transfer the papaya to a bowl and set aside.
In a small bowl, combine the cornstarch and water. Add to the simmering juices and whisk.
Add the lime and orange zests. Cook over low heat whisking until the mixture thickens, stirring occasionally. Remove from the heat and add the papaya.
Add the butter and stir until melted. Leave the mixture to cool.
Pour the mixture into the prebaked pie crust. Refrigerate until set for about 2 hours.
Method: Sweetened Rum Whipped Cream
In a medium bowl, whip the cream and sugar until soft peaks form. Add the rum and whip until stiff peaks form, being careful not to over whip. Sprinkle with the toasted coconut.
Arrange the lime slices in a decorative pattern and serve.
[ Image provided by Creative commons ]