As we hope (!) you're aware, Valentine's Day is just around the corner. If you're anything like us, we are already wondering what to do doing on the day itself. Unsurprisingly chocolate features at the forefront of most of our plans.
In fact, if we are being really honest, most of us are helping out with our Valentine's chocolate making class as Valentine's is one of the business times of the year for us!
Having helped out at many, many Valentine's chocolate making workshops over the years, we can honestly say that making personalised chocolates for your other half is always going to be a perfect Valentine's gift.
If you're looking for a little inspiration, we do offer chocolate making party kits, which contain all the ingredients and equipment you need to make your own truffles, fudge and flavoured chocolate bites.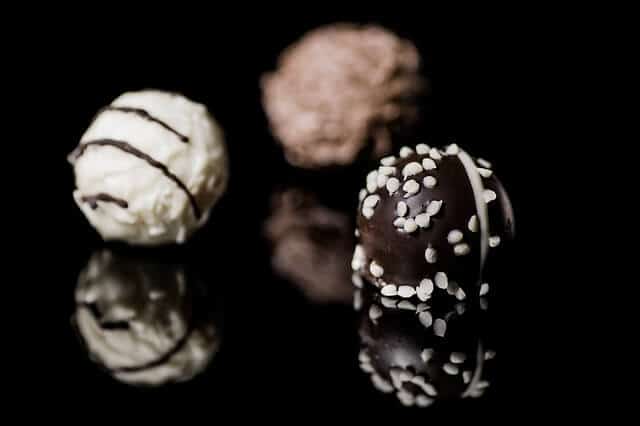 We are also big fans of our sumptuous orange & pistachio truffle recipe and what says I love you more than a homemade selection of indulgent, melt-in-your mouth truffles?
The recipe is quick and easy to make. All you need are a few simple ingredients and half an hour spare.
You will need:
260g of premium quality dark chocolate, minimum 70% cocoa, broken into small pieces
3 tablespoons of double cream
1/2 cup of honey
1 knob of butter, cut into small pieces
1 1/2 cups of pistachios, finely chopped
1 orange, zested
Heart-shaped cookie/pastry cutter, preferably 1 inch in diameter
Instructions:
Simmer the honey in a frying pan for a few minutes, or until it turns a medium brown colour and gives off a sweet caramel scent. Remove the pan from the heat.
Melt the chocolate au ban marie, making sure to stir frequently. In a separate thick-bottomed pan, gently heat the cream.
When the chocolate has melted into a smooth and glossy mixture, remove ¼ of the chocolate and keep in a separate bowl.
Pour the warm cream and caramelised honey into the larger quantity of chocolate and whisk the mixture until it has blended together.
Mix in 1 cup of the pistachios and half of the orange zest.
Set the mixture aside to cool for 5 minutes or so. Meanwhile, combine the rest of the pistachios and orange zest in a large bowl.
Once the chocolate mixture has set, use your hands to roll it into bite sized pieces, roughly 2 inches in diameter. Place the pieces on a chopping board and flatten with a rolling pin. Use the cookie-cutter to cut the pieces into lovable heart shapes.
Once you have your chocolate love hearts, carefully dip them into the smaller bowl of melted chocolate and then coat them with the pistachio/orange zest mixture.
Place the finished truffles on a serving tray lined with parchment paper and devour at will!
Variations
What's great about this recipe is you can easily vary the ingredients if you want to make them again. For example, you can replace the pistachios with hazelnuts or almonds for a subtle twist or if you'd prefer to spice things up, add five cardamom pods and a sprinkling of ground cinnamon or nutmeg.
If you enjoyed these truffles, and you'd like to read more from MyChocolate, please browse the rest of our blog.
[Images provided by Pixabay ]