Let's be honest, these easy to make brownies look like heaven!
With organic milk melting chocolate and crumbled caramelised hazelnuts, what's not to love!? Whip up a batch of these so you have something to nibble on whilst you hop over to The Chocolate Hedgehog  to order your own chocolate making kit. Then your next chocolate making adventure will be just as easy and even more delicious!
Makes 16 small brownies.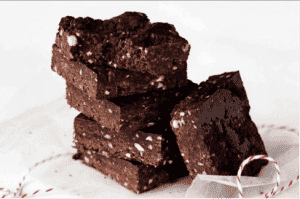 Ingredients
90g graham cracker crumbs
80g crumbled caramelised hazelnuts
30g cocoa powder
½ teaspoon salt
180g sweetened condensed milk
110g organic milk melting chocolate, melted
Directions
1. Line an 8-inch (20cm) square baking dish with two crossed strips of parchment paper, letting the long ends hang over the sides of the dish. Grease lightly with butter or baking spray
2. In a large bowl, mix together the crackers, hazelnuts, cocoa and salt. Pour in the milk. Add the melted chocolate and stir firmly to thoroughly combine
3. Scrape the mixture into the prepared pan. Cover with a piece of plastic wrap and press firmly into the pan
4. Chill for at least 1 hour, until firm enough to cut. Lift the parchment paper to remove the brownies from the pan. Cut the brownies into small squares. They will be fudgy but quite firm 5. Store leftover brownies in an airtight container in the fridge for up to 5 days