In case this is your first introduction to the Whoopie Pie, the name may be worth a giggle, but it's very misleading!
A whoopie pie is somewhere between a cake and a biscuit. It's made with more flour and less egg so the end result is a thin, flat and chewy sponge.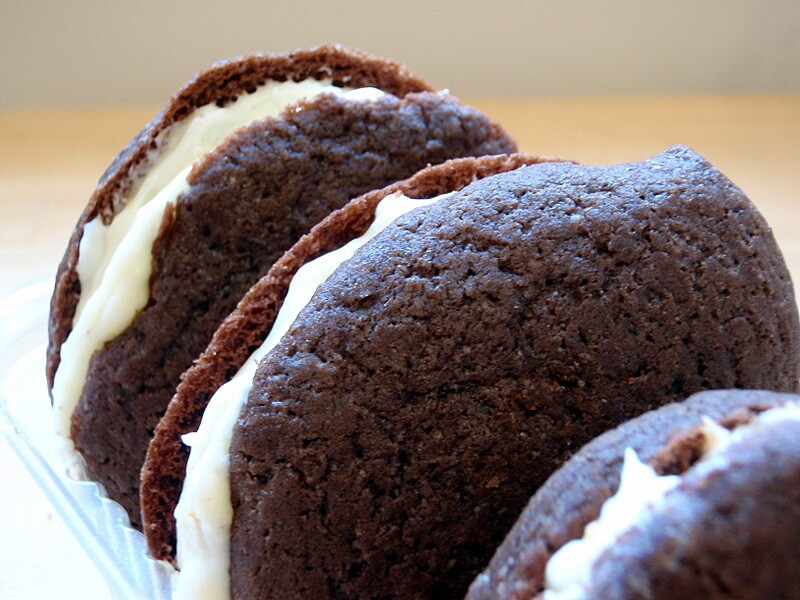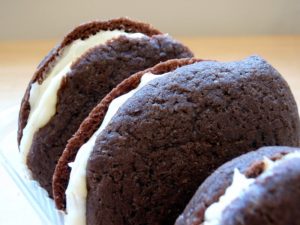 Ingredients
125g Butter, softened
200g Light brown sugar
1 Large egg
350g Plain flour
50g Cocoa powder
5.25ml Bicarbonate of soda
1.25ml Salt
250ml Low-fat buttermilk
Makes 6 Whoopie Pies
Recipe
Preheat the oven to 180°C. Line two baking trays with baking paper or silicone mats.
Whisk together the butter and sugar. Beat in the egg. Sift the flour, cocoa, bicarbonate of soda and salt into another bowl. Gradually combine the mixtures and slowly add the buttermilk.
Fill a piping bag with the mixture and pipe 5cm round cakes onto the lined baking trays.
Bake for 10-15 mins or until the cakes spring back when touched.
Allow to cool before adding your filling.
[Image provided by Joy – Flickr ]