What things should you consider when personalising your Hen Party to make the day extra special for her? We've added a few handy tips and tricks below.
Activity she will LOVE
It is so important when planning and organising a hen do that you pick an activity that the bride will love. Does she want something active and outdoors, something calm and relaxing, or something different and fun? When you have decided on this, think of all the details to really make the experience personal for the bride. For example, if the bride loves prosecco, at My Chocolate, make sure to choose the Luxury workshop which includes a glass of prosecco as well as lots of fun chocolate making!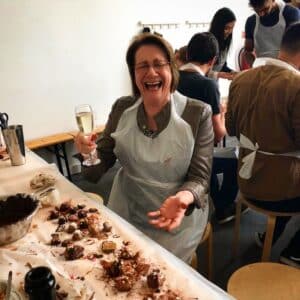 An activity for all
The next step is to consider who will be coming to this hen party. Is it for friends, family, people of all ages? You will then need to see what activities are suitable for each particular group. Maybe you are doing a few activities so you can cater for different parties to do with the bride-to-be; but if you are going for one big activity, make sure it is suitable for children, through to adults so that everyone can enjoy it and have fun. (P.S. Chocolate making is a fantastic activity for all ages- and it is delicious!)
Surprises
Another consideration is whether the event you have booked has the option to add in some extra surprises. Can they throw something extra in that makes the bride-to-be feel really special- whether it is a gift (like a goody bag), being spotlit within the activity or getting to do something extra that others may not. These small details can make a huge difference to the experience for the bride.
Make it Personal
Whatever activity you choose, make sure there is a part that is really personal for the bride so that she will always remember the activity and the people that were there. Maybe you could play a fun game over dinner, take some fun pictures at specific locations or if in one of our workshops, get everyone to make a special chocolate for the hen. Make the bride-to-be feel special and your day will be remembered for a long time to come!