Fun. It's a curious word, isn't it? And one that means very different things to different people.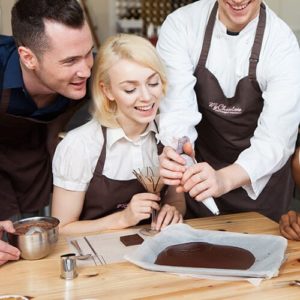 Let's take bungee jumping. Scores of people around the world find leaping off an extremely high ridge, with only a thin rubber ankle tie for support, a fun activity. And others will quiver at the thought!
Now, we at My Chocolate are an open-minded lot and of the opinion, "whatever floats your boat". With this in mind, we've had a little office brainstorm and come up with our 5 top fun team-building activities for your delectation:
#1 Chocolate
Well, you didn't think we were going to put something else at No.1 surely? Not only do you get to make and eat plenty of amazing chocolate, the competition also gets fierce with our adrenalin-fuelled treasure hunt and Dragon's Den style judging panel. Watch out, your truffle better be good enough for Peter Jones!
#2  Blindfold Driving
Ok it must be the daredevil in us, but the prospect of driving a 4×4 blindfolded is somehow appealing. When else would you get to be so reckless? Oh, but we should mention, your colleagues will be in the vehicle with you too, yelling "Left a bit…right a…noooooo!".
#3 Sand-sculpting.
Apparently you'll defy the law of physics with this activity. Brilliant fun but sadly, Bournemouth beach might not be quite the place for it in December. Brrr.
#4 Cocktail-Making
Yum, we have a soft spot for cocktails at My Chocolate HQ. We actually show guests how to blend chocolate martini's in our Corporate Special workshop!
#3 Gourmet Food Challenges
For the foodies among you, there are a dazzling variety of options out there. Italian, Chinese, Thai, French…get your frying pans at the ready! As it goes, gourmet experiences are a My Chocolate speciality, focusing around chocolate, naturally. Make your own chocolate martini, sample balsamic chocolate dip with artisan breads as well as chocolate olive tapenade with goats cheese, specially flavoured truffles…we could go on. Alcohol, food, chocolate – meeting every criteria of a fun team-building activity!